You Might Soon Be Able to Buy Luxury Products via WhatsApp
Yoox Net-a-Porter plans to sell to customers via chat service

Online fashion seller faces competition from Farfetch, others
Online luxury retailer Yoox Net-a-Porter said it's developing technology that will allow well-to-do customers to buy products directly through WhatsApp as the e-commerce market for Prada and Versace goods becomes more competitive.
Yoox Net-a-Porter's personal shoppers already communicate with top clients via the text-messaging service, and the Milan-based company plans to expand its use of the mobile app, Chief Executive Officer Federico Marchetti said in an interview in London.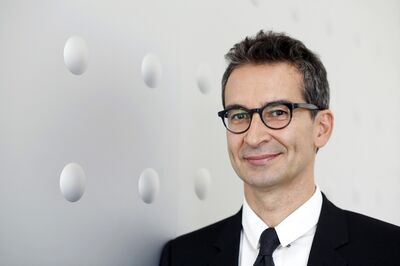 By becoming one of the first companies to use WhatsApp to sell directly to customers, Yoox Net-a-Porter is seeking a leg up on competitors like Farfetch and luxury brands' own sites. Less than two years after leaving the company, Net-a-Porter founder Natalie Massanet announced last week that she's joining Farfetch's board, renewing her rivalry with Marchetti, who created Yoox and orchestrated the 2015 merger that created YNAP.
So far the fashion industry has been slow to capitalize on the opportunity of messaging. In China, the WeChat app has more than 700 million users — many of whom have their bank accounts linked to the service. While 92 percent of global luxury brands use WeChat for marketing, only a small proportion of them sell directly through the app, according to digital researcher L2.
YNAP, which sells $12,000 Oscar de la Renta gowns and $7,000 Dolce & Gabbana handbags via sites such as Net-a-Porter and the Outnet, is trying to get in closer contact with big spenders. About 40 percent of its higher-margin in-season revenue comes from just 2 percent of its clients, which it has dubbed EIPs, or "Extremely Important People."
"We've made some of our biggest sales to EIPs by chatting to them through WhatsApp," Marchetti said. He declined to give details on how payment via WhatsApp would work.
Yoox Net-a-Porter is jumping on the WhatsApp opportunity because Net-a-Porter's mobile customers place more than double the orders of desktop users, and those purchases on average are about twice as valuable. The company is still testing its technology and has no scheduled release date.
WhatsApp changed its privacy rules in August to allow companies to communicate directly with its 1 billion users as Facebook Inc. looks to start recouping some of the $22 billion it paid to buy the service.
Research firm Forrester has forecast the online luxury market will more than double to $39 billion by 2021, but YNAP, Farfetch and others are aiming for a growing slice of that business. Farfetch's sales are growing about 60 percent a year, according to analysts at Exane BNP Paribas. The company was valued at almost $1.5 billion in a funding round last year and is said to be planning an IPO.
Source: www.bloomberg.com